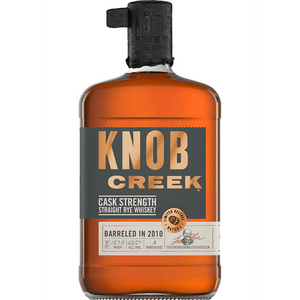 Knob Creek Cask Strength Rye Whiskey is a high-quality, small-batch whiskey that is distilled in limited quantities and bottled at full cask strength without any dilution. It is produced by the Knob Creek Distillery, which is located in Clermont, Kentucky, and has been making whiskey since 1795.
This rye whiskey is made from a blend of the finest rye grains and aged in new, charred American oak barrels for a minimum of 9 years. The result is a rich and complex flavor profile that is characterized by notes of caramel, vanilla, toasted oak, and spices such as cinnamon and clove.
At cask strength, this whiskey has a higher alcohol content than traditional bottlings, typically ranging from 119 to 127 proof (59.5-63.5% ABV), which gives it a bold and intense flavor. It is recommended to add a few drops of water to open up the flavor and soften the alcohol burn.
Knob Creek Cask Strength Rye Whiskey is an award-winning whiskey that has received critical acclaim from whiskey enthusiasts and experts alike. It is best enjoyed neat or on the rocks, and pairs well with a variety of food, including barbecue, grilled meats, and spicy dishes.