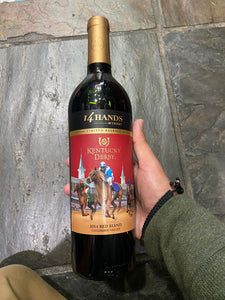 14 Hands Kentucky Derby Red Blend is a unique and exciting wine that is inspired by the iconic horse race. This red blend is crafted using a blend of carefully selected grape varietals, resulting in a wine that is complex, rich, and full of flavor.

The wine has a deep ruby color and an aroma of ripe blackberry and cherry, with a subtle hint of vanilla and spice. On the palate, the wine is medium-bodied with flavors of dark fruit, vanilla, and a touch of oak. The tannins are smooth and well-structured, providing a pleasant and lingering finish.

This wine is the perfect complement to any Kentucky Derby viewing party or horse racing event. It pairs well with a variety of foods, including grilled meats, roasted vegetables, and pasta dishes. It is also an excellent wine to enjoy on its own, sipping slowly and savoring the flavors.

Overall, 14 Hands Kentucky Derby Red Blend is an exceptional wine that captures the excitement and energy of one of America's most famous horse races. Whether you're a fan of horse racing or just looking for a delicious and unique wine, this red blend is sure to impress.