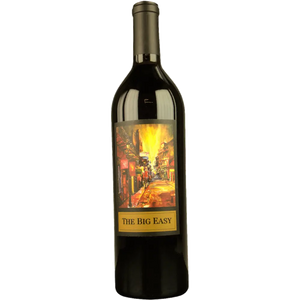 Elevate your wine experience with the 2020 Fess Parker The Big Easy, a wine that encapsulates the essence of California's Central Coast. Named after the iconic Fess Parker, whose larger-than-life portrayal of Davy Crockett captured hearts, this wine is a testament to his legendary spirit and the legacy he left behind. Crafted with the utmost care, this blend is a symphony of flavors, an ode to the vibrant, sun-kissed vineyards that grace this region.

As you pour a glass of The Big Easy, you're greeted by a deep, alluring ruby red that dances in the light. This visual promise is just the beginning of what awaits your senses. A swirl of the glass reveals a mesmerizing bouquet of ripe blackberries, plums, and a hint of vanilla. It's a fragrant invitation that beckons you to take your first sip.

The palate of The Big Easy is a revelation of flavors. A harmonious blend of Syrah, Petite Sirah, Grenache, and Mourvèdre grapes, it offers a symphony of dark fruit, warm spices, and a subtle touch of oak. Each sip is a journey through layers of complexity, unveiling a rich tapestry of flavors that evolve as they linger on your palate.

But what truly sets The Big Easy apart is its finish—a long, lingering caress that leaves a lasting impression. It's a finish that reflects the dedication of Fess Parker's winemaking team and the unique terroir of the Central Coast. With each sip, you're transported to this picturesque region, where sun, soil, and sea breezes combine to create wines of exceptional character.

Whether you're a seasoned wine enthusiast or simply looking for an exquisite bottle to elevate your dining experience, the 2020 Fess Parker The Big Easy delivers. It's a wine that embodies the spirit of California winemaking, where tradition meets innovation, and passion meets precision. Indulge in a taste of the Central Coast with The Big Easy, available now at Folsom Wine & Spirits. Order your bottle today and savor the legacy of Fess Parker with every sip.