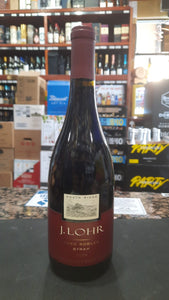 The 2020 J. Lohr Estates South Ridge Syrah is a full-bodied and complex red wine hailing from the Paso Robles region of California. This wine has a deep ruby color with a purple hue and offers a rich and intense bouquet of blackberry, black cherry, and plum, with subtle hints of spice and oak.
On the palate, the J. Lohr Estates South Ridge Syrah is rich and velvety, with a full-bodied structure and well-balanced tannins that give it a smooth and satisfying mouthfeel. It has a complex flavor profile that features dark fruit notes, along with hints of black pepper, vanilla, and chocolate. The finish is long and lingering, leaving a pleasant and memorable aftertaste.
This wine is an excellent pairing for grilled meats, roasted vegetables, and hearty stews. It is best served at room temperature to fully appreciate its bold and complex flavors. Overall, the 2020 J. Lohr Estates South Ridge Syrah is a sophisticated and elegant wine that is perfect for special occasions or to enjoy with a fine meal.