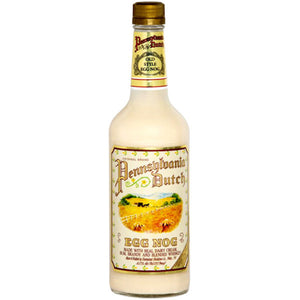 Experience the heartwarming tradition of the holiday season with Pennsylvania Dutch Egg Nog Cream Liqueur, a timeless classic available exclusively at Folsom Wine & Spirits. This exceptional cream liqueur is a tribute to the joy of gathering with loved ones, sharing stories, and creating cherished memories. It's a taste of the holiday spirit in every sip.

Pennsylvania Dutch Egg Nog Cream Liqueur is presented in an inviting bottle that exudes warmth and festivity. As you unseal the bottle, a delightful aroma fills the room, enticing your senses with notes of creamy vanilla, aromatic spices, and the rich, comforting scent of freshly baked goods. This aromatic embrace is just the beginning of the comfort and delight that this liqueur offers.

The first sip is like a hug from your favorite holiday sweater, as the velvety, full-bodied liquid wraps your palate in a cozy embrace. You'll encounter a symphony of flavors, from the luscious sweetness of cream and caramel to the gentle warmth of nutmeg and a hint of rum. This liqueur is more than a beverage; it's a taste of the holiday season, a testament to the comfort and joy that accompanies every holiday celebration.

The finish is smooth and satisfying, leaving you with a warm, lingering feeling of contentment that beautifully captures the holiday spirit. Pennsylvania Dutch Egg Nog Cream Liqueur is a must-have for the holiday season, bringing warmth and togetherness to your gatherings. It offers a unique opportunity to savor the joy and nostalgia of the season.

Elevate your holiday celebrations with this exceptional cream liqueur, and raise your glass to the tradition, warmth, and festive spirit that Pennsylvania Dutch represents. Secure your bottle today and toast to the holidays with a touch of nostalgia and a whole lot of heart. Cheers to the timeless joy of the season!