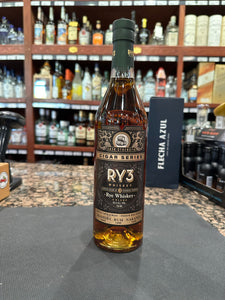 Ry3 Cigar Series Cask Strength Rye Whiskey stands as a testament to the world of spirits, offering a distinguished and robust character that enthusiasts and connoisseurs deeply appreciate. Crafted with precision and care, this cask-strength rye whiskey embodies the essence of strength and complexity.

With each pour, Ry3 Cigar Series Cask Strength Rye Whiskey introduces itself with an inviting aroma that combines the rich scent of toasted oak with the warm, spicy notes of rye. Hints of caramel and vanilla add a layer of sweetness, creating a bouquet that hints at the whiskey's depth and complexity.

But what truly sets Ry3 apart is its formidable strength. As a cask-strength whiskey, it boasts a high proof that leaves no room for dilution. This strength enhances the whiskey's unapologetic character, making it the choice of those who appreciate a whiskey that doesn't hold back.

The journey continues with a dynamic and full-bodied palate. The spicy kick of rye takes center stage, offering an intense and robust flavor profile. Complementing the rye's punch is the deep complexity of charred oak, which adds depth and character to each sip.

The experience culminates in a memorable finish that lingers on the palate, leaving an enduring impression of the whiskey's strength and depth. This extended finish invites contemplation and savoring, making every sip a moment to relish.