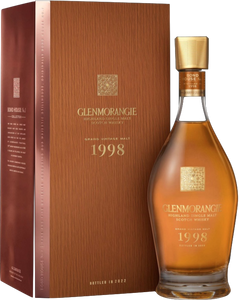 The Glenmorangie Bond House No.1 Collection pays homage to its namesake, the largest of Glenmorangie's traditional 19th-century bonded warehouses. All of the Bond House No.1 Single Malt Whiskies have been created, nurtured, and long matured at Glenmorangie's distillery on the shores of the Dornoch Firth.
The Grand Vintage Malt 1998 is captured at its peak and shared at its remarkable best; its eloquence is a symbol of the elegant, experimental style. Embark on a transatlantic journey from the world of classic bourbon to the sherry bodegas in Jerez, both finessed with virgin new charred oak by Glenmorangie's Master of Wood Dr. Bill Lumsden.
The Grand Vintage Malt 1998 is delicate and spicy, with rich, ripe fruity aromas and flavors of smooth toffee, and ginger.
This limited-edition single malt is created from some of Glenmorangie's first experiments with virgin charred oak casks. Each bottle is individually numbered.
GLENMORANGIE BOND HOUSE NO.1 GRAND VINTAGE 1998 TASTING NOTES:
Color: Rich Amber
Aroma: Ripe pears, plums, baked apples drizzled with rich toffee sauce, gentle oak, creamy vanilla, fresh mint leaves, and a spiraling scent of incense.
Palate: Zesty, vibrant fruits, smoothened by chocolate and soft butter candy, scattered with raisins and figs. Then, deliciously hinting at the new charred oak, comes orange chocolate, spiced with clove, ginger, aniseed, and sweet chili.
Finish: Subtle and mellow. A harmony of sugared almonds, leather, and dates.