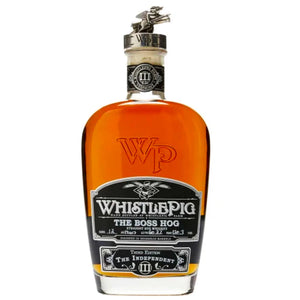 The Independent, the Third Edition of Boss Hog, is a celebration of the spirit of entrepreneurship and innovation. This is our first Rye Whiskey finished in Hogshead 250-liter Scotch casks "the largest barrels in the business enhanced with new American oak heads.
The result is extraordinary: a fine balance between complex spices and delicate nuance. Punchy, massive, and unrelenting, The Independent showcases the harmonious flavor achieved when two of the worlds loudest whiskeys – Rye and Peated Scotch – find perfection in one another. A love story like no other.
Nose - Oak and vanilla are predominant on the nose, with undertones of mint, caramel, and baking spice.
Palate - Warm and bold, with lots of spices. Very faint hints of peat and smoke. Slightly earthy.
Finish - Surprisingly easy drinking for 125 proof with a long, warm, spicy finish


750Ml