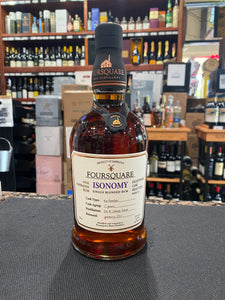 Introducing Foursquare Isonomy Rum 750ml – a true masterpiece in the world of fine spirits. Crafted by Foursquare Distillery, renowned for its commitment to tradition and innovation, Isonomy Rum is a testament to the art of distillation and aging.

Aromatic Excellence: Immerse your senses in the rich bouquet of Isonomy Rum. With each inhale, you'll encounter a symphony of notes – from the gentle embrace of vanilla and caramel to the tantalizing hint of tropical fruits. The aroma transports you to a world of Caribbean indulgence and invites you to explore its depths.

Exquisite Palate: As the liquid touches your lips, an exquisite journey of flavors unfolds. Velvety waves of butterscotch and toffee dance gracefully across your palate, intertwined with layers of oak and spice. This harmonious marriage of sweet and woody notes creates a taste profile that's both indulgent and sophisticated.

Unforgettable Finish: The finale is equally enchanting, as the rum's flavors linger on your palate. The finish is smooth and rewarding, a balance between the warmth of oak and the lingering sweetness that invites contemplation. It's a testament to the craftsmanship that went into creating a rum that stands as a testament to Foursquare's dedication to excellence.

Elegance in Presentation: Foursquare Isonomy Rum is presented in a distinguished 750ML bottle, reflecting the elegance and prestige of the liquid it holds. The label pays homage to the brand's legacy while conveying the contemporary nature of the spirit within.

Elevate your drinking experience with Foursquare Isonomy Rum 750ML – a liquid embodiment of Foursquare Distillery's passion, expertise, and commitment to creating a rum that transcends expectations. Whether enjoyed neat, on the rocks, or as the foundation of exquisite cocktails, this rum is a journey of flavors that will leave an indelible mark on your palate.