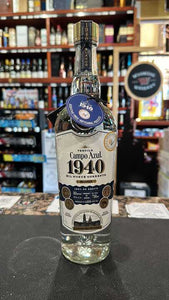 Unlock the secrets of the past with the 1940 Campo Azul Blanco Tequila, a truly exceptional gem exclusively available at Folsom Wine & Spirits. This extraordinary tequila is a tribute to the rich history and tradition that has made tequila a beloved spirit for generations. Prepare to embark on a journey through time and taste with this vintage masterpiece.

The 1940 Campo Azul Blanco Tequila arrives in a beautifully designed bottle that pays homage to the roots of tequila-making. As you unseal the bottle, an inviting aroma fills the air, teasing your senses with hints of agave, earthy nuances, and a subtle floral undertone. This bouquet is a precursor to the complexity and depth that lie within.

The first sip is an awakening of the senses, as the silky, full-bodied liquid caresses your palate. You'll encounter a symphony of flavors, from the sweet agave notes to a gentle touch of citrus, all in perfect harmony. This is a tequila that demands your full attention, a testament to the skill and dedication that have gone into every bottle.

The finish is long and satisfying, leaving you with a warm and lingering embrace that showcases the depth and character of this vintage tequila. The 1940 Campo Azul Blanco is an essential addition to the collection of any true tequila connoisseur, offering a unique opportunity to own a piece of tequila history.

Elevate your spirits collection with this exceptional tequila and toast to the craftsmanship, precision, and heritage that define Campo Azul. Secure your bottle today and raise your glass to the past and the promise of the future. Cheers to a world of unparalleled flavor and tradition!