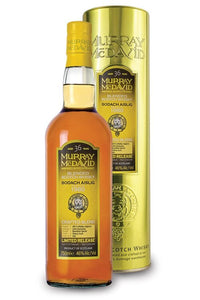 Bodach Aislig is a masterfully crafted blend of select single malt and single grain whiskies, including Glenrothes, Glengoyne, Bunnahabhain, Tamdhu, Port Dundas, Cameronbridge, and North British. These vintage spirits were carefully blended and matured at our Coleburn Distillery dunnage warehouses, resulting in a rare and exceptional whisky.
With a high malt content of 40%, Bodach Aislig is a unique blend that showcases the best of both malt and grain whiskies from active and closed distilleries across all five whisky producing regions of Scotland. Each spirit was aged separately in bourbon barrels before being blended, with the resulting blend further matured in a single Sherry butt for nearly a decade. This extended maturation period has allowed the individual spirits to harmonize and develop a luscious fruity character.
Bodach Aislig is a testament to the Whisky Creations Team's expertise in both maturation and blending, resulting in a truly exceptional and memorable whisky that is sure to delight any whisky enthusiast.