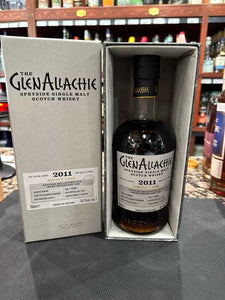 Elevate your whisky experience with the 2011 The GlenAllachie Single Cask 12 Year Old Single Malt Scotch Whisky, a true masterpiece that embodies the time-honored traditions and exceptional craftsmanship of the Speyside region in Scotland. This limited edition expression is a celebration of the art of single malt production.

The GlenAllachie Single Cask 12 Year Old is the result of meticulous aging and cask selection. Each bottle represents a unique and exceptional cask, ensuring that every sip offers a one-of-a-kind experience.

As you pour a glass, you'll be captivated by its warm amber hue, a visual testament to its long and patient maturation. The aroma is a delightful blend of orchard fruits, vanilla, and subtle spices, inviting you to embark on a sensory journey. On the palate, you'll be immersed in a symphony of flavors, with notes of honeyed apples, butterscotch, and a gentle hint of oak. The finish is long and satisfying, leaving you with a warm and memorable impression that lingers.

The 2011 The GlenAllachie Single Cask 12 Year Old Single Malt Scotch Whisky is not just a whisky; it's an invitation to explore the rich and diverse flavors of Speyside. It's perfect for savoring neat, appreciating the intricacies of a well-aged single malt, and sharing with fellow enthusiasts.

Whether you're a seasoned whisky connoisseur or someone eager to explore the world of single malt Scotch, this GlenAllachie expression is a must-have for your collection. It represents the dedication, precision, and the art of the distiller. Order your bottle today from Folsom Wine & Spirits and immerse yourself in the unique and memorable world of GlenAllachie Single Malt Scotch Whisky. Cheers to the exceptional!