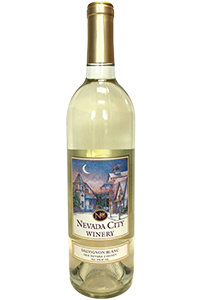 The  Nevada City Winery Sauvignon Blanc is a delicious and refreshing white wine that showcases the best of the Sierra Foothills region. This wine is made from 100% Sauvignon Blanc grapes, which were carefully selected and harvested at optimal ripeness.
On the nose, this wine has bright and fresh aromas of citrus, white peach, and a subtle herbaceous note. On the palate, it is crisp and lively, with flavors of lemon, lime, and a hint of minerality. The wine is well-balanced with a bright acidity that leads to a refreshing and zesty finish.
The grapes for this wine were sourced from vineyards located in the Sierra Foothills region, which is known for its unique climate and soil. The warm days and cool nights of this region, along with the rocky, volcanic soils, impart distinctive characteristics to the grapes, resulting in a complex and flavorful wine.
The  Nevada City Winery Sauvignon Blanc is a perfect wine for any occasion, whether you're enjoying a casual dinner with friends or hosting a formal gathering. Serve it chilled with grilled seafood, roasted chicken, or creamy pasta dishes for a delicious and satisfying pairing.