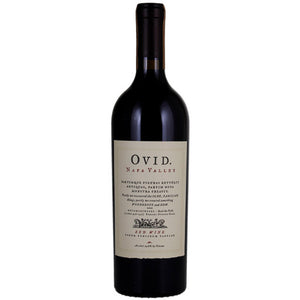 Discover the epitome of winemaking excellence with the 2019 Ovid Napa Valley Red Blend, a rare gem that graces the cellars of true wine aficionados. Available exclusively at Folsom Wine & Spirits, this exceptional wine is a testament to the artistry, passion, and dedication that define Ovid Napa Valley. Each bottle is a harmonious symphony of flavors that promises an unparalleled wine experience.

The 2019 Ovid Napa Valley Red Blend is presented in an elegantly designed bottle, reflecting the premium quality of this limited release. As you unseal the bottle, an enchanting aroma fills the air, captivating your senses with notes of dark fruits, cassis, and a hint of freshly turned earth. This aromatic bouquet is just a glimpse of the depth and complexity that awaits your palate.

The first sip is an exquisite journey, as the velvety, full-bodied liquid gracefully caresses your taste buds. You'll encounter a symphony of flavors, from the bold blackberry and dark cherry notes to the sophisticated hints of cedar, tobacco, and fine leather. This wine is not just a drink; it's a masterpiece, a testament to the precision and craftsmanship that Ovid Napa Valley has perfected.

The finish is long and gratifying, leaving you with a warm, lingering embrace that beautifully showcases the depth and character of this very rare wine. The 2019 Ovid Napa Valley Red Blend is a must-have for the seasoned wine connoisseur and those looking to explore the world of exceptional wine. It's a unique opportunity to own a piece of Ovid Napa Valley's illustrious legacy.

Elevate your wine collection with this exceptional blend and raise your glass to the craftsmanship, precision, and legacy that Ovid Napa Valley represents. Secure your bottle today and toast to the depth of character and the promise of memorable moments. Cheers to a world of unparalleled flavor and sophistication!