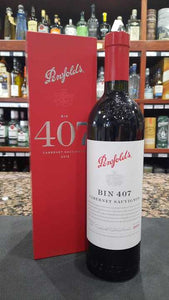 Penfolds Bin 407 Cabernet Sauvignon is a premium red wine that represents the classic Cabernet Sauvignon varietal, sourced from some of the finest vineyards in South Australia. This wine is named after the Bin 407, which was the first Cabernet Sauvignon wine ever made by Penfolds.
The wine displays a deep purple-red color and has a complex bouquet of blackcurrant, blackberry, and plum, with hints of mint, tobacco, and cedar. On the palate, the wine is full-bodied with a firm tannin structure that provides a lasting finish.
The Cabernet Sauvignon grapes are carefully selected and matured for 12 to 15 months in a combination of new and seasoned French oak barrels, which impart a subtle vanilla and spicy aroma. The result is a wine that is powerful and intense, with great aging potential.
The Penfolds Bin 407 Cabernet Sauvignon pairs well with a variety of red meat dishes, such as roast beef, steak, or lamb. It also complements rich, hearty stews and casseroles. This wine can be enjoyed now or cellared for up to 10 to 15 years, where it will continue to develop and evolve, revealing new layers of complexity over time.