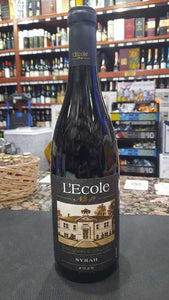 Introducing the exceptional 2020 L'Ecole No. 41 Syrah in a 750ml bottle, a testament to the winery's commitment to crafting wines of elegance and character. This vintage encapsulates the essence of Walla Walla Valley's terroir and the artistry of winemaking, offering a taste experience that's both captivating and nuanced.

In the glass, the Syrah displays a deep and alluring garnet hue, hinting at the complexity within. The aroma is an inviting blend of dark berries, violets, and a whisper of black pepper, offering a sensory journey that's both enticing and sophisticated.

With the first sip, you're transported to a world of layered flavors. The taste profile showcases the varietal's signature characteristics, with vibrant blackberry and plum notes dancing harmoniously with subtle nuances of spice and earth. It's a celebration of the grape's natural richness, expertly highlighted by the winemaker's touch.

As the wine graces your palate, intricate layers of flavor continue to unfold. Silky tannins weave through the fruit-forward nature of the Syrah, creating a balanced and velvety experience that's both opulent and approachable. It's a testament to the winery's dedication to both tradition and innovation.

The finish is a lingering crescendo, leaving behind a gentle echo of the wine's complexity and depth. 2020 L'Ecole No. 41 Syrah isn't just a vintage – it's a tribute to the Walla Walla Valley, a reminder of the importance of terroir, and a testament to the craftsmanship that goes into creating exceptional wines.

Whether enjoyed on its own, paired with hearty dishes, or savored during special occasions, this Syrah invites you to explore the artistry of winemaking and experience the embodiment of the region's essence in every sip.