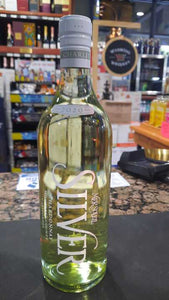 Introducing the exquisite 2020 Mer Soleil Silver Chardonnay in a 750ml bottle, a true embodiment of elegance and craftsmanship. This vintage is a celebration of the sun-kissed grapes that were meticulously nurtured in the prestigious vineyards, resulting in a wine that captivates the senses and defines the art of winemaking.

With a pale, shimmering hue that mirrors the glistening rays of the sun, the Mer Soleil Silver Chardonnay is a visual delight that promises a refreshing experience. The bouquet is a symphony of aromas, offering delicate notes of citrus blossoms, green apples, and a subtle hint of toasted oak. These scents intermingle to create a harmonious fusion that teases the senses and foreshadows the rich flavors that await.

On the palate, the wine unfolds gracefully, revealing a well-balanced profile. Crisp flavors of lemon zest and ripe pear dance on the tongue, while a touch of vanilla and buttery nuances contribute to a luscious and satisfying mouthfeel. The wine's natural acidity adds vibrancy, maintaining a perfect equilibrium between freshness and depth.

The 2020 Mer Soleil Silver Chardonnay is an ideal companion for a variety of culinary experiences. Whether paired with light seafood dishes, grilled poultry, or even enjoyed on its own as a reflective aperitif, its versatility knows no bounds. The finish is enduring, leaving a memorable impression that lingers like the warmth of the sun on a perfect summer day.

Indulge in the allure of the 2020 Mer Soleil Silver Chardonnay as it transports you to the sun-soaked vineyards of California's central coast. Crafted with passion and dedication, this vintage encapsulates the essence of a remarkable year, ready to be shared and savored with those who appreciate the finer pleasures of life.