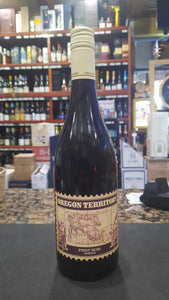 Introducing Paul O'Brien Oregon Territory Pinot Noir, an exquisite wine crafted with precision and passion from the renowned wine regions of Oregon. This elegant Pinot Noir embodies the essence of the Pacific Northwest, capturing the unique terroir and expressing it through each sip.

The Oregon Territory Pinot Noir showcases the mastery of winemaker Paul O'Brien, who has artfully blended the finest grapes to create a wine that delights the senses. With a deep ruby color and a medium-bodied profile, this wine offers a harmonious balance of flavors and aromas that will captivate both novice and seasoned wine enthusiasts alike.

Upon pouring, the nose is greeted with a delightful bouquet of ripe red berries, including juicy cherries and luscious raspberries. These vibrant fruit notes intertwine with hints of black tea and delicate earthy undertones, showcasing the complexity and depth of this wine.

On the palate, the Oregon Territory Pinot Noir displays a graceful interplay of flavors. The ripe fruitiness continues, accompanied by subtle notes of vanilla and a touch of warm baking spices. Silky-smooth tannins and a gentle acidity lend structure and finesse to the wine, leading to a long and satisfying finish.

This Pinot Noir pairs seamlessly with a wide range of dishes, making it a versatile companion for your dining experiences. Whether enjoyed with roasted duck, grilled salmon, or mushroom risotto, the Oregon Territory Pinot Noir elevates every meal, enhancing flavors and creating a memorable culinary experience.

Crafted with utmost dedication and attention to detail, Paul O'Brien Oregon Territory Pinot Noir is a testament to the rich winemaking heritage of the region. Its exceptional quality and refined character make it a delightful choice for wine enthusiasts seeking a sophisticated and authentic taste of Oregon's terroir.

Indulge in the essence of Oregon with Paul O'Brien Oregon Territory Pinot Noir and savor a wine that embodies the beauty and complexity of this remarkable wine-growing region.