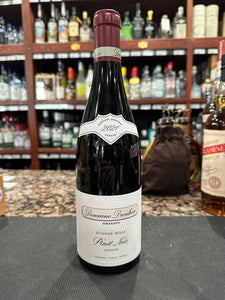 The 2021 Domaine Drouhin Pinot Noir is a stellar representation of the elegant and nuanced Pinot Noir wines that Oregon's Willamette Valley is renowned for. Produced by Domaine Drouhin, a respected winery known for its commitment to crafting exceptional cool-climate wines, this Pinot Noir embodies finesse and complexity.

Upon pouring a glass, you'll notice its beautiful garnet hue, hinting at the depth and vibrancy of this wine. The aroma is inviting, with notes of ripe red berries, cherries, and subtle floral hints, creating a captivating bouquet that sets the stage for an exquisite tasting experience.

On the palate, the Domaine Drouhin Pinot Noir showcases layers of flavors—elegant red fruit, delicate spices, and earthy undertones, all gracefully balanced. Its silky texture, refined tannins, and well-integrated acidity contribute to a velvety mouthfeel and a lingering finish that leaves a pleasant memory of its intricate flavors.

This wine exemplifies the craftsmanship and terroir-driven approach of Domaine Drouhin, showcasing the unique characteristics of the Willamette Valley and the meticulous care taken in its production.

Whether you're a Pinot Noir enthusiast or someone exploring the world of Oregon's fine wines, the 2021 Domaine Drouhin Pinot Noir promises a delightful journey through its sophisticated and well-structured profile. Enjoy it with a range of cuisines or savor its elegance on its own. Cheers to the finesse of Willamette Valley's Pinot Noir!