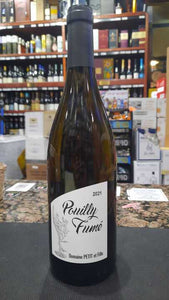 Step into a world of refined elegance with the 2021 Domaine Petit et Fille Pouilly-Fumé in a 750ml bottle. This vintage is a true testament to the meticulous craftsmanship of the winemakers and the unique terroir of Pouilly-Fumé. With every sip, you're transported to the heart of the Loire Valley, where tradition meets innovation.

In the glass, the wine shimmers with a pale, straw-like brilliance that captures the essence of purity and freshness. The aroma is an intricate dance of citrus, green apples, and a delicate whisper of flint, inviting you to explore the nuances of the terroir.

From the very first sip, you're welcomed into a world of balanced complexity. The taste profile unfolds with lively notes of zesty lemon and white grapefruit, intertwined with subtle mineral undertones. It's a celebration of the Sauvignon Blanc grape's vibrancy and the unique characteristics of the Pouilly-Fumé region.

As the wine graces your palate, layers of flavor continue to emerge. Crisp acidity mingles with the fruit-forward nature of the Sauvignon Blanc, creating a harmonious and invigorating experience that's both refreshing and satisfying. It's a testament to the winemakers' dedication to crafting a wine that reflects the best of the terroir.

The finish is clean and enduring, leaving behind a lingering aftertaste that captures the essence of citrus and minerality. The 2021 Domaine Petit et Fille Pouilly-Fumé isn't just a wine – it's a journey to a region steeped in tradition, a reminder of the importance of terroir, and a testament to the passion that goes into creating exceptional wines.

Whether enjoyed on its own, paired with light fare, or shared in the company of loved ones, this Pouilly-Fumé invites you to savor the moment and experience the essence of the Loire Valley's unique terroir in every sip.