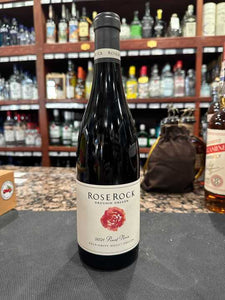 The 2021 Roserock Pinot Noir is a distinguished wine that reflects the excellence and terroir-driven style of Oregon's Eola-Amity Hills. Crafted by the skilled team at Roserock, which is a part of the renowned Drouhin family, this Pinot Noir embodies finesse, complexity, and the unique characteristics of the region.

Upon pouring a glass, you'll notice its inviting ruby-red hue, hinting at the vibrancy and depth of this exceptional wine. The aroma is alluring, offering a bouquet of ripe red fruits, such as cherries and raspberries, with delicate floral notes and subtle hints of spices, inviting you to indulge in its complexities.

On the palate, the 2021 Roserock Pinot Noir reveals layers of flavors—bright red berries, nuanced spices, and earthy undertones, all elegantly balanced. Its velvety texture, refined tannins, and well-integrated acidity create a smooth and harmonious mouthfeel, leading to a lingering finish that leaves a delightful impression.

This wine exemplifies Roserock's dedication to crafting wines that express the unique terroir of Eola-Amity Hills, showcasing the region's cool-climate characteristics and the meticulous attention to detail in its production.

Whether you're a Pinot Noir enthusiast or someone exploring Oregon's exceptional wines, the 2021 Roserock Pinot Noir promises an enchanting experience through its sophisticated and well-structured profile. Pair it with a variety of dishes or savor its elegance on its own. Here's to the allure of Eola-Amity Hills' Pinot Noir!