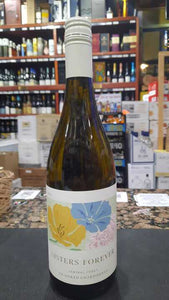 Introducing the enchanting 2021 Sisters Forever Un-Oaked Chardonnay, a true testament to the beauty of unadulterated expression and the bond of sisterhood. This vintage captures the essence of sun-drenched vineyards and the artistry of winemaking, offering a taste experience that's as vibrant as it is captivating.

In the glass, the Chardonnay glistens with a pale, straw-like hue, reminiscent of a sunlit afternoon. The aroma is an inviting blend of crisp green apples, citrus blossoms, and delicate floral undertones, promising a sensory journey that's both fresh and inviting.

With the first sip, you're transported to a world of pure, unmasked flavors. The taste profile showcases the unadulterated essence of the Chardonnay grapes, with lively notes of green apple, lemon zest, and a touch of minerality. It's a celebration of the fruit's natural character, unencumbered by oak influence.

As the wine graces your palate, layers of flavor unfold. Crisp acidity mingles with the fruit-forward nature of the Chardonnay, creating a balanced and refreshing experience that's both invigorating and satisfying. It's an exploration of pure taste, curated to perfection.

The finish is a delightful conclusion, leaving behind a lingering impression of the wine's vibrancy and authenticity. 2021 Sisters Forever Un-Oaked Chardonnay isn't just a vintage – it's a tribute to the purity of sisterly bonds, a reminder that true beauty lies in simplicity, and a testament to the dedication that goes into crafting exceptional wines.

Whether enjoyed on its own, paired with light fare, or shared in the company of loved ones, this Chardonnay invites you to embrace the moment and cherish the unfiltered joys of life.