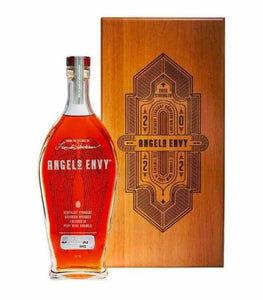 Introducing the 2022 Angel's Envy Cask Strength Port Wine Barrel Finish Kentucky Straight Bourbon Whiskey – a masterpiece of craftmanship and innovation in the world of whiskey. This exceptional release from Angel's Envy represents the pinnacle of their artistry, taking their renowned bourbon to new heights.

Tasting Notes:
Prepare your senses for a symphony of flavors that dance on your palate with each sip. The deep ruby hue of this whiskey hints at its unique journey through hand-selected Port wine barrels, giving it a rich and complex character that is simply unparalleled. On the nose, you'll be greeted by a medley of ripe cherries, blackberries, and toasted oak, with a subtle undercurrent of vanilla and caramel.

As this bourbon caresses your taste buds, you'll experience a harmonious blend of sweet and savory notes. Luscious blackberry jam and dark chocolate mingle with hints of dried fruits, creating a velvety texture that coats the mouth. The influence of the Port wine barrels imparts a delightful wine-like quality, infusing the bourbon with a gentle tannic structure and a lingering warmth that carries through to the finish.

Craftsmanship:
Each bottle of Angel's Envy Cask Strength Port Wine Barrel Finish is a testament to the distillery's commitment to excellence. The journey begins with a carefully selected mash bill of the finest corn, rye, and malted barley, which is distilled to perfection and aged in new American oak barrels. Then comes the magic – a finishing period in handpicked Port wine barrels that infuses this bourbon with its unique character and complexity.

Bottled at cask strength, this limited release showcases the whiskey in its purest form, allowing you to experience it exactly as the master distillers intended.

Perfectly Aged:
The 2022 Angel's Envy Cask Strength Port Wine Barrel Finish Kentucky Straight Bourbon Whiskey is the result of years of patient aging and meticulous craftsmanship. The artistry behind this release is a testament to the dedication of Angel's Envy to create an unforgettable whiskey that pays homage to tradition while pushing the boundaries of flavor.

Savor the Experience:
Whether enjoyed neat, with a splash of water, or over a perfectly clear ice cube, this bourbon invites you to savor every sip. Its depth of flavor and complexity make it an ideal choice for special occasions, celebratory toasts, or moments of personal indulgence.

Limited Availability:
This exceptional release is produced in limited quantities, making it a sought-after gem among whiskey enthusiasts and collectors alike. Don't miss your chance to experience the 2022 Angel's Envy Cask Strength Port Wine Barrel Finish – a true masterpiece of Kentucky bourbon heritage and innovation. Cheers to the extraordinary!