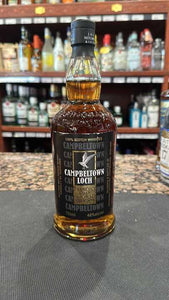 Step into the world of Scottish whisky with the 2022 Campbeltown Loch Blended Malt Scotch Whisky, available exclusively at Folsom Wine & Spirits. This extraordinary blend is a testament to the rich heritage and craftsmanship that define Scotch whisky. It's a journey through the heart of Scotland in every sip, and it promises to captivate your palate and your imagination.

The Campbeltown Loch Blended Malt Scotch Whisky is presented in a beautifully designed bottle that reflects the time-honored traditions of Scottish whisky-making. As you unseal the bottle, an inviting aroma fills the air, tantalizing your senses with hints of honeyed malt, dried fruit, and subtle traces of peat. This blend offers a masterclass in balance and complexity, a result of the meticulous selection and blending of malt whiskies from Campbeltown.

The first sip is a revelation, with a smooth and velvety texture that gracefully coats your palate. Flavors of toffee, butterscotch, and a gentle smokiness come together in perfect harmony, creating a symphony of taste that evolves with every sip. The finish is long and satisfying, leaving you with a warm, lingering embrace, a testament to the expertise and heritage that have gone into creating this exquisite blend.

The 2022 Campbeltown Loch Blended Malt Scotch Whisky is a true masterpiece that beckons both the seasoned whisky connoisseur and those new to the world of fine Scotch. It offers a unique opportunity to own a piece of the rich history and tradition that Campbeltown is renowned for. Elevate your spirits collection with this exceptional whisky, and toast to the craftsmanship, precision, and legacy of Scottish whisky-making.

Secure your bottle today and raise your glass to the depth of character and the journey through Scotland that the 2022 Campbeltown Loch Blended Malt Scotch Whisky represents. Cheers to a world of unparalleled flavor and heritage!