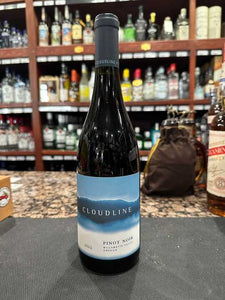 The 2022 Cloudline Cellars Pinot Noir is a beautifully crafted expression that showcases the elegance and finesse of Oregon's Willamette Valley. This Pinot Noir is renowned for its approachability, balance, and the classic characteristics inherent to the region.

Pouring a glass reveals its alluring ruby-red hue, hinting at the vibrancy within. The nose is greeted with aromas of ripe red berries, cherries, and subtle earthy undertones, creating a captivating bouquet that invites exploration.

On the palate, the Cloudline Cellars Pinot Noir delivers a harmonious blend of flavors—juicy red fruits, delicate hints of spice, and a touch of vanilla from oak aging. Its silky texture and balanced acidity contribute to a smooth and pleasant drinking experience. The finish is elegant, leaving a lingering impression of fruit and soft tannins.

This Pinot Noir embodies the essence of the Willamette Valley, known for producing exceptional cool-climate wines that showcase the unique terroir and character of the region.

Whether you're a Pinot Noir enthusiast or someone looking to explore the nuanced flavors of Oregon's wines, the 2022 Cloudline Cellars Pinot Noir promises a delightful journey through its expressive and well-crafted profile. Enjoy this versatile wine with a variety of dishes or on its own, savoring its smooth and sophisticated nature. Cheers to the charm of Willamette Valley's Pinot Noir!