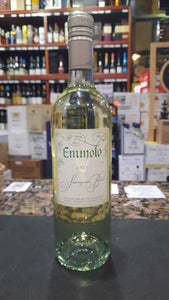 Introducing the exceptional 2022 Emmolo Sauvignon Blanc is a testament to the artistry of winemaking and the essence of the vineyard. This vintage captures the spirit of the land and delivers a sensory journey that embodies the harmony of nature and craftsmanship.

Radiating a pale, luminous shade that mirrors the sunlit vineyards, the 2022 Emmolo Sauvignon Blanc invites the eyes to linger. The bouquet is a delicate fusion of floral notes, crisp green apples, and a whisper of tropical fruit. These aromas intertwine seamlessly, offering a glimpse into the symphony of flavors awaiting exploration.

On the palate, this wine unfolds a tapestry of taste that's both invigorating and refined. Bright notes of citrus, including lemon and grapefruit, mingle with the essence of freshly cut grass, presenting a balanced and vibrant flavor profile. A touch of minerality adds depth, while the wine's inherent freshness lends a captivating liveliness to each sip.

The 2022 Emmolo Sauvignon Blanc is a versatile companion for a range of culinary delights. Whether enjoyed with seafood, salads, or simply sipped on its own, it effortlessly enhances the dining experience. The finish is crisp and enduring, leaving a trail of satisfaction akin to the gentle breeze that rustles through a flourishing vineyard.

Indulge in the allure of the 2022 Emmolo Sauvignon Blanc as it transports you to the heart of Napa Valley's vineyards. Crafted with dedication and finesse, this vintage captures the vitality of the year and invites you to savor the moment. Elevate your senses and appreciate the embodiment of terroir and tradition in every exquisite sip.