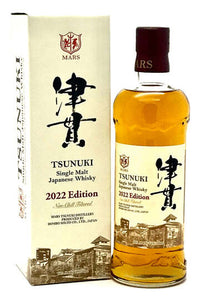 The 2022 Mars Tsunuki Single Malt Japanese Whisky is a premium and highly anticipated release from the Tsunuki Distillery, located in the Kagoshima Prefecture of Japan. This limited edition single malt is crafted using only the finest ingredients, including high-quality Japanese barley and pure, natural spring water sourced from the distillery's own wells.
This whisky is aged in a combination of ex-bourbon, ex-sherry, and Japanese oak casks, resulting in a beautifully balanced flavor profile. On the nose, there are notes of honey, vanilla, and caramel, along with hints of dried fruits and spices. The palate is rich and complex, with flavors of ripe fruit, toasted oak, and a subtle smokiness.
The finish is long and satisfying, with a gentle warmth and a touch of sweetness. Bottled at 46% ABV, this whisky has a smooth and elegant mouthfeel that is sure to delight even the most discerning whisky enthusiast.
With its exceptional quality and limited availability, the 2022 Mars Tsunuki Single Malt Japanese Whisky is a must-try for anyone who appreciates the art of Japanese whisky-making. Whether enjoyed neat or on the rocks, this whisky is sure to impress and satisfy.