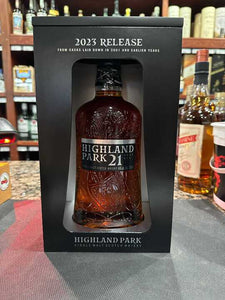 Experience the epitome of Scotch whisky craftsmanship with the 2023 Highland Park 21 Year Old Single Malt. This exceptional expression is a testament to the time-honored traditions and unwavering dedication of Highland Park, a distillery with a history steeped in the rugged beauty of the Orkney Islands.

Aged for a full 21 years, this single malt is the result of painstaking attention to detail. It is matured in carefully selected sherry-seasoned oak casks, each one imparting its unique character to the whisky. The outcome is a liquid symphony of flavors that reflects the Orkney's essence, where nature and tradition intertwine.

From the very first glance, the 2023 Highland Park 21 Year Old Single Malt captivates with its deep, amber hue, a visual representation of the whisky's long journey to perfection. The aroma is an exquisite blend of dried fruits, spices, and hints of heather honey, offering a tantalizing glimpse of what's to come. On the palate, you'll be enveloped by a rich tapestry of flavors, including dark chocolate, toffee, and a whisper of aromatic smoke. The finish is enduring and warming, a testament to the whisky's full-bodied, matured character.

This 21-year-old gem is not just a whisky; it's an invitation to experience the Orkney Islands in a glass. It's an ode to the island's breathtaking landscapes, its timeless traditions, and the dedication of those who craft this masterpiece.

Whether you're a seasoned whisky enthusiast or a novice eager to explore the world of single malt Scotch, the 2023 Highland Park 21 Year Old is a must-have addition to your collection. It's a celebration of time, patience, and the enduring legacy of Highland Park, where every drop is a piece of Orkney's history. Order your bottle today from Folsom Wine & Spirits and elevate your appreciation for the art of whisky. Skál! Cheers to the timeless and the exceptional!