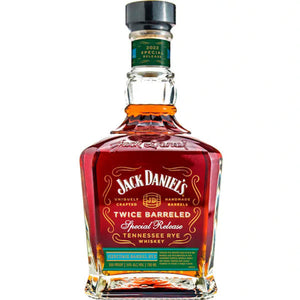 Prepare to embark on a journey of unparalleled flavor and heritage with the 2023 Jack Daniel's Twice Barreled Special Release Heritage Tennessee Rye. This remarkable whiskey is a testament to the enduring legacy of the Jack Daniel's Distillery, where time-honored traditions meet innovative craftsmanship. The Heritage Tennessee Rye is a limited release that pays homage to the rich history and unwavering commitment of this iconic distillery.

The journey of this exceptional rye whiskey begins with a meticulous selection of rye grains, chosen for their quality and character. These grains are carefully mashed and fermented, setting the foundation for a whiskey that will stand the test of time. Following distillation, the rye spirit is gently cradled in new, charred oak barrels, each stave hand-picked for its unique qualities, initiating a one-of-a-kind aging process.

What sets the Heritage Tennessee Rye apart is the "twice barreled" method, a distinctive Jack Daniel's practice. After an initial aging period, the whiskey is transferred to a second barrel that has been deeply toasted and lightly charred, endowing it with an array of flavors. This intricate process allows the rye to absorb additional layers of complexity and character from the wood, culminating in a spirit that's truly extraordinary.

Pouring a glass of 2023 Jack Daniel's Twice Barreled Heritage Tennessee Rye reveals a rich amber hue, a visual testament to the whiskey's depth. The aroma is a captivating blend of rich vanilla, toasted oak, and a hint of caramel, offering a delightful prelude to what awaits your palate. On tasting, the whiskey unfolds a perfectly balanced complexity of flavors. The sweetness of honey and caramel dances in harmony with the warmth of toasted oak, and the subtle spice of rye, creating a symphony of taste.

The finish is long and deeply satisfying, with a lingering memory of vanilla and toasted wood. 2023 Jack Daniel's Twice Barreled Heritage Tennessee Rye is more than just a whiskey; it's a tribute to the heritage and legacy of a distillery that has been perfecting its craft for generations. At Folsom Wine & Spirits, we're honored to present this limited release to our cherished customers, who recognize and appreciate the exceptional. Secure your bottle today and experience the time-honored tradition of Jack Daniel's in every sip, a toast to history, craftsmanship, and extraordinary flavor.