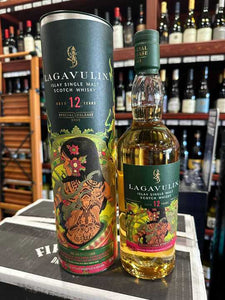 Lagavulin is renowned for its rich, peaty single malt whiskies from the Islay region, known for their bold and distinctive character. The 12-year-old natural cask strength release typically presents Lagavulin's robust flavors in a more concentrated and intense form due to its higher alcohol content straight from the cask.

Anticipate a whisky with a deep golden hue, a result of its extended maturation period in oak casks. The aroma might offer a complex bouquet of peat smoke, maritime influences, hints of brine, and a balance of sweet and savory notes.

On the palate, Lagavulin's natural cask strength expressions often deliver a powerful yet harmonious combination of flavors—smoky peat, briny sea salt, roasted malt, oak, and subtle layers of sweetness, all intermingling to create a multi-dimensional taste experience.

The Lagavulin Natural Cask Strength 12 Year Old Single Malt Scotch Whisky releases are highly anticipated among whisky enthusiasts for their depth, intensity, and the raw essence of Lagavulin's distillery character.

If you have the opportunity to acquire a bottle of the 2023 release, savor it neat or with a few drops of water to unlock its full complexity and appreciate the unadulterated strength and flavor profile it offers. It's a chance to experience the raw power and intricate flavors that Lagavulin is celebrated for. Cheers to the excellence of Lagavulin's natural cask strength releases!