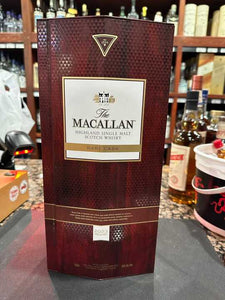 Prepare to embark on an unparalleled journey through the world of Scotch whisky with the 2023 Macallan Rare Cask Single Malt Scotch Whisky. This exceptional expression is a testament to the relentless pursuit of perfection and the unwavering commitment to craftsmanship that defines The Macallan Distillery.

The Macallan Rare Cask is an exceptional creation, meticulously crafted from a handpicked selection of casks, each chosen for its unique and exceptional character. This whisky embodies the art of the master blender, a true craftsman with an extraordinary palate and an unyielding dedication to quality.

From the very first pour, the 2023 Macallan Rare Cask captivates with its deep, rich color, a visual testament to the whisky's remarkable aging process. The nose is a harmonious blend of dried fruits, spices, and a subtle hint of oak, offering a glimpse of the intricate layers that await. On the palate, you'll be enveloped in a tapestry of flavors, with notes of dark chocolate, orange, and a delicate, warming spice. The finish is long and satisfying, leaving you with a lingering warmth that's as smooth as silk.

The Macallan Rare Cask is not just a whisky; it's a work of art. It's a celebration of the distillery's legacy, innovation, and the mastery of cask selection.

Whether you're a seasoned whisky connoisseur or someone eager to explore the world of single malt Scotch, the 2023 Macallan Rare Cask is a must-have addition to your collection. It's a journey through time, dedication, and the enduring excellence of The Macallan. Order your bottle today from Folsom Wine & Spirits and savor the extraordinary. Cheers to The Macallan, where every drop is a masterpiece!