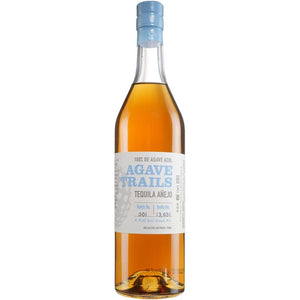 Agave Trails Anejo Tequila is a premium tequila that has been aged for a minimum of 18 months in oak barrels, resulting in a smooth and complex flavor profile. This 750ml bottle is a limited edition release, with only a small number of bottles available.
This tequila has a rich and inviting aroma, with notes of vanilla, caramel, and oak. On the palate, you'll notice a burst of flavors including agave, dark chocolate, and a hint of spice. The finish is long and satisfying, with a pleasant sweetness that lingers.
What sets this tequila apart is its artisanal production process, which involves using only the highest quality blue Weber agave plants that are harvested by hand. The plants are then cooked in traditional brick ovens before being crushed and fermented using natural yeasts. Finally, the tequila is distilled in small batches before being aged in oak barrels to create a rich and complex flavor profile.
Overall, Agave Trails Anejo Tequila is a truly exceptional tequila that is perfect for sipping and savoring on its own, or paired with your favorite Mexican dish.