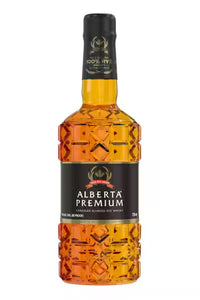 Alberta Distillers crafts this whiskey in the heart of Canada's rye-growing country, where the cold and barren winters transform into an abundant crop of the finest rye.

This whiskey is a blend of two aged whiskies, one of which is aged in used bourbon casks to enhance its flavor. After blending, the whiskey is aged further for five years, allowing the natural rye spice to develop and flourish. The slow aging process in cold temperatures preserves the whiskey's full flavor, making it known for its robust taste.

Alberta Premium whiskey is an exceptional blend that showcases the craftsmanship and dedication of our distillers. It is a whiskey that is made with passion and care, reflecting the quality of the ingredients and the tradition of our craft.