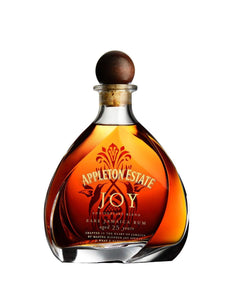 From the esteemed Jamaica distiller comes an exciting and intriguing offering - the Appleton Estate Joy Anniversary Blend 25 Year Old Rum. This refreshingly sophisticated Gold Rum is bottled at 45% ABV and widely regarded as one of the finest rums available.
Crafted to celebrate the 20th anniversary of Joy Spence's tenure as Master Blender of Appleton Estate, this exceptional rum is composed of hand-selected blends chosen by Spencer herself. The blend includes a marriage of two superior-aged rums - a 35-year-old and an incredibly significant 25-year-old Pot Still rum, which showcases the unique character of traditional pot still-style Appleton Estate rum.
Expect a bold and full-bodied flavor profile that is instantly recognizable as typical of the Jamaica region. This profound iteration of the Joy Anniversary Blend 25 Year Old Rum is a must-try for connoisseurs and represents another outstanding expression of Gold Rum excellence.