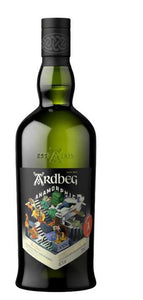 Discover the bold and unapologetic spirit of Ardbeg Anamorphic Committee Release Single Malt Scotch Whisky, a limited-edition creation that redefines the boundaries of peaty perfection. This expression is the result of the Ardbeg Committee's unrelenting passion for pushing the limits of flavor and innovation. Crafted with unwavering dedication on the rugged shores of Islay, Ardbeg Anamorphic is a testimony to the untamed spirit that is quintessentially Ardbeg.

From the very first pour, you're greeted with a profound smoky aroma that embodies the essence of Islay's peat bogs. It's a sensory adventure that transports you to a windswept coastline, where briny sea air mingles with the earthy, medicinal notes unique to Ardbeg's distillery character. The bouquet is nothing short of captivating, a promise of the bold, uncompromising flavor to follow.

The palate is an explosion of complex flavors, a symphony of peat, vanilla, and dark chocolate. Ardbeg's signature peatiness takes center stage, with a captivating interplay of briny coastal elements. As you savor the depths of this exquisite whisky, you'll find layers of smoky sweetness, with hints of tropical fruits and spices. It's a truly immersive experience that sets your taste buds on a thrilling adventure through the rugged landscapes of Islay.

The finish is a grand finale, leaving a lasting impression of smoky warmth that lingers long after your last sip. Ardbeg Anamorphic is a testament to the art of whisky-making, an expression that defies convention and invites you to embrace the untamed beauty of Islay's peat. With its limited availability, this is an opportunity for enthusiasts and collectors to own a piece of Ardbeg history and savor a whisky that encapsulates the spirit of adventure and innovation.

At Folsom Wine & Spirits, we take pride in offering you exceptional spirits like Ardbeg Anamorphic Committee Release. Our commitment to quality ensures that you receive only the finest selections, curated to satisfy even the most discerning palates. Secure your bottle today and embark on a peaty journey through Islay's wild and uncharted territory, one sip at a time.