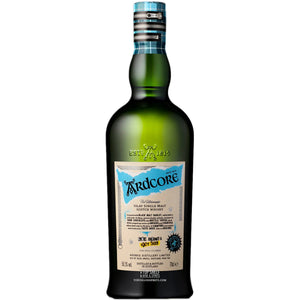 Ardbeg Ardcore Committee Release is a highly coveted limited edition whisky that is certain to delight even the most discerning of whisky enthusiasts. Produced by one of Scotland's most revered distilleries, Ardbeg, this whisky is a tribute to the distillery's most loyal fans, the Ardbeg Committee.
This whisky has been crafted to be bold and unapologetically intense, with a smoky, peaty flavor profile that is instantly recognizable as an Ardbeg expression. It is bottled at cask strength, an impressive 50.1% ABV, which enhances the intensity of the flavors and aromas.
The name "Ardcore" is a nod to the passion and dedication of the Ardbeg Committee, who have been instrumental in the brand's success over the years. This limited edition whisky is only available to members of the Ardbeg Committee, making it a highly sought-after addition to any whisky collection.
Each bottle of Ardbeg Ardcore Committee Release is individually numbered and presented in a striking gift box, making it the perfect gift for any Ardbeg fan or collector. Savor the intense and complex flavors of this exceptional whisky, and experience the true spirit of Ardbeg.