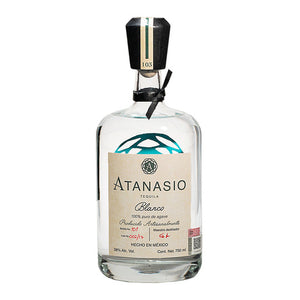 Atanasio Blanco Tequila is a premium tequila that is crafted using only the finest ingredients and traditional methods. Made with 100% Blue Weber agave, which is hand-selected and harvested at the peak of maturity, this tequila has a crisp, clean flavor with a hint of sweetness and a subtle peppery finish.
Each bottle of Atanasio Blanco Tequila contains 750ml of this exquisite spirit, making it the perfect choice for any occasion. Whether you're sipping it neat or using it to craft your favorite cocktail, you'll appreciate the smooth and refined taste of this exceptional tequila.
Atanasio Blanco Tequila is distilled using a proprietary process that ensures the highest quality and purity. The agave is roasted in traditional brick ovens, and then the juice is extracted and fermented using natural yeast. The tequila is then double-distilled in copper pot stills to create a smooth and elegant spirit.
With its delicate flavor and elegant bottle design, Atanasio Blanco Tequila is the perfect addition to any home bar or a thoughtful gift for the tequila lover in your life. So whether you're celebrating a special occasion or simply enjoying a night in with friends, Atanasio Blanco Tequila is the perfect choice for a refined and sophisticated drinking experience.