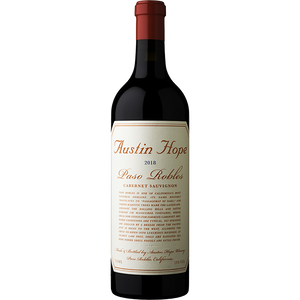 The 2021 Austin Hope Paso Robles Cabernet Sauvignon is a premium wine that offers an exceptional drinking experience. It is crafted using 100% Cabernet Sauvignon grapes sourced from some of the most prestigious vineyards in the Paso Robles region of California.
This wine has a deep, dark color with aromas of ripe blackberry, black cherry, and cassis, layered with subtle notes of vanilla, mocha, and toasted oak. On the palate, it is full-bodied and rich, with flavors of blackberry jam, dark chocolate, and espresso. The tannins are firm yet velvety, providing a long, smooth finish.
This Cabernet Sauvignon is aged for 20 months in French oak barrels, which adds complexity and depth to the wine. It is a perfect match for hearty dishes such as grilled steak, roast beef, or braised lamb, and will also pair well with aged cheeses.
Overall, the 2021 Austin Hope Paso Robles Cabernet Sauvignon is a superb wine that showcases the exceptional quality of Paso Robles Cabernet Sauvignon. It is a must-try for wine enthusiasts and a great addition to any wine collection.