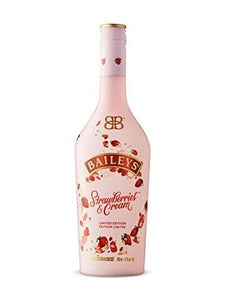 Baileys Strawberries & Cream Liqueur is a delicious and indulgent treat that combines the rich, creamy taste of Baileys Irish Cream with the sweet, juicy flavor of ripe strawberries. This premium liqueur is made with real dairy cream, natural strawberry flavor, and Baileys' signature Irish whiskey, resulting in a decadent and smooth taste experience.
Baileys Strawberries & Cream Liqueur has a luscious, velvety texture that is perfectly balanced with the sweet, fruity taste of strawberries. It is best served chilled, either straight or over ice, for a refreshing and indulgent dessert-like experience.
This versatile liqueur can also be used as an ingredient in a variety of cocktails and desserts, adding a delicious and unique twist to classic recipes. Try adding a splash of Baileys Strawberries & Cream Liqueur to your favorite coffee, milkshake, or ice cream sundae for a special treat.
Baileys Strawberries & Cream Liqueur is perfect for anyone who loves the taste of fresh strawberries and creamy, indulgent liqueurs. Its premium quality, delicious flavor, and versatility make it a standout choice among liqueur enthusiasts and casual drinkers alike. The 750ml bottle is perfect for sharing with friends and family or for treating yourself to a special night in.