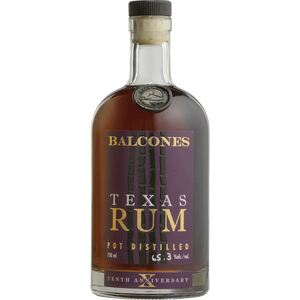 Balcones Cask Strength Texas Rum is a premium, high-proof rum made in the heart of Texas. This small-batch rum is crafted using traditional techniques and the finest locally-sourced ingredients, including molasses from Texas sugarcane.

This rum is aged for an extended period in charred oak casks, which imparts a rich and complex flavor profile to the spirit. The result is a full-bodied rum with notes of caramel, vanilla, and oak, as well as hints of spice and fruit.

As a cask-strength spirit, Balcones Cask Strength Texas Rum is bottled at its natural proof without any dilution, providing an intense and robust drinking experience. Each batch of this rum is carefully handcrafted and bottled in small quantities, making it a rare and sought-after spirit among rum connoisseurs and enthusiasts.

Overall, Balcones Cask Strength Texas Rum is a unique and delicious expression of the Lone Star State's craft spirit scene, offering a bold and memorable drinking experience that is perfect for sipping neat or mixing in cocktails.