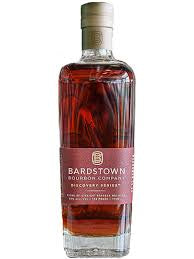 The Bardstown Bourbon Company's Discovery Series 7 Kentucky Straight Bourbon is a true masterpiece of blending expertise and sourcing wizardry, providing an unparalleled sipping experience. This exclusive whiskey was launched in the winter of 2022 and is a remarkable blend of premium bourbons aged for 7, 12, and 17 years, each with their own unique mash bills that were expertly combined to create a harmonious taste profile.
The recipe for this exceptional bourbon includes 31% 12 year old Kentucky bourbon (75% corn, 13% rye, 12% malted barley), 25% 12 year old Kentucky bourbon (78% corn, 10% rye, 12% malted barley), 21% 12 year old Ontario whiskey (100% corn), 15% 7 year old Indiana rye (45% corn, 51% rye, 4% malted barley), and 8% 17 year old Tennessee whiskey (84% corn, 8% rye, 8% malted barley).
With a bottling strength of 114.5 proof, the Bardstown Bourbon Company Discovery Series 7 was released in limited quantities, showcasing the distillery's exceptional skill in crafting superior blended whiskey. This elite-edition bourbon is a testament to the Bardstown Bourbon Company's unwavering dedication to producing outstanding, high-quality spirits.