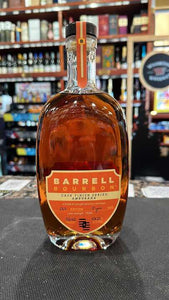 Elevate your bourbon experience with the Barrell Amburana Cask Finish Straight Bourbon Whiskey, a limited release that promises to take your taste buds on a captivating journey. Exclusively available at Folsom Wine & Spirits, this exquisite bourbon is a testament to the innovation and craftsmanship that the Barrell Craft Spirits brand brings to the world of fine whiskey.

The Barrell Amburana Cask Finish Bourbon whiskey arrives in a meticulously designed bottle, reflecting the attention to detail that goes into every aspect of its creation. This exceptional spirit is more than just a drink; it's a work of art that tells a unique story. It's the embodiment of tradition and innovation in one bottle.

As you uncork the bottle, an inviting aroma fills the air, teasing your senses with hints of vanilla, coconut, and warm spices. The Barrell Amburana Cask Finish Bourbon is a masterclass in complexity and balance, thanks to its unique finishing process in Amburana wood casks. The first sip is a revelation, with a velvety, full-bodied texture that envelops your palate.

Flavors of honey, caramel, and a subtle tropical fruitiness dance harmoniously, creating a symphony of taste that evolves with each sip. This is a bourbon that demands your attention, a testament to the craftsmanship that Barrell Craft Spirits has poured into every bottle.

The finish is long and satisfying, leaving you with a warm, lingering embrace that showcases the depth and character of this Amburana Cask Finish Bourbon. This limited release offers a unique opportunity to own a piece of Barrell Craft Spirits' innovation and vision for the future of whiskey.

Elevate your whiskey collection with this exceptional spirit and savor the dedication, precision, and creativity that define Barrell Craft Spirits. Secure your bottle of the Barrell Amburana Cask Finish Straight Bourbon Whiskey today and raise your glass to the art of craft distilling and the promise of the future. Cheers to a world of unparalleled flavor and innovation!