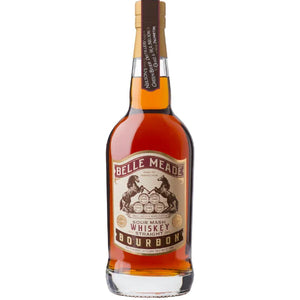 In keeping with the history of the brand and to assure that only the finest quality Bourbon is labeled Belle Meade Bourbon, we painstakingly select barrels sourced from the nation's finest distillers. To ensure that no other Bourbon in the world tastes like Belle Meade Bourbon, we created a proprietary blend using different high-rye content mash bills and complementary yeast strains. Each batch of our well-aged proprietary blend creates the signature flavor profile that makes Belle Meade Bourbon the award-winning Bourbon of choice for the discerning whiskey drinker.

The high-rye blend of Belle Meade was designed to make it a versatile Bourbon. It shines whether served neat, with a splash, or on the rocks but it's also outstanding in a well-made cocktail. The high rye content and 90.4 bottling proof helps Belle Meade Bourbon to stand up to mixers that often mask other Bourbons, thus making it the perfect Bourbon for your favorite classic or craft cocktail creation.

Whoever said everything old is new again was dead on. So don't drink like your Dad. Drink like your Great Great GREAT Granddad. Drink Belle Meade Bourbon.