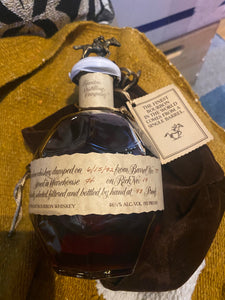 Introducing the 1992 Blanton's Vintage Original Single Barrel, a masterpiece of bourbon craftsmanship that transports you back to a golden era of distillation. Crafted with unparalleled care and precision, this limited-edition release is a tribute to the legacy of Blanton's, renowned for its commitment to quality and tradition.

With each bottle containing 750ml of pure indulgence, the 1992 Vintage Original Single Barrel is a true collector's gem. From the moment you uncork the bottle, you'll be enveloped in an exquisite symphony of aromas that evoke the essence of a time gone by. Rich notes of toasted oak, caramelized vanilla, and a hint of warming spice intertwine to create a sensory experience that is both nostalgic and exhilarating.

What sets this bourbon apart is its origin story - a single barrel masterpiece distilled in 1992 and aged to perfection. This meticulous aging process has allowed the flavors to mature and harmonize, resulting in a liquid that dances across your palate with layers of complexity. Each sip reveals a spectrum of flavors, from the initial burst of honeyed sweetness to the gentle crescendo of dark fruits and nutty undertones, finishing in a crescendo of spices that linger in the most satisfying way.

The 1992 Blanton's Vintage Original Single Barrel isn't just a drink; it's an homage to the craftsmanship and dedication that have defined Blanton's for generations. Housed in a distinctive bottle crowned with a collectible horse and jockey stopper, this bourbon captures the essence of an era when attention to detail was paramount and quality was never compromised.

Whether you're a seasoned bourbon aficionado or a newcomer to the world of fine spirits, the 1992 Blanton's Vintage Original Single Barrel invites you to savor a moment in time. Indulge in the luxury of a meticulously crafted bourbon that embodies the spirit of 1992 and pays homage to a tradition of excellence that continues to captivate connoisseurs worldwide.