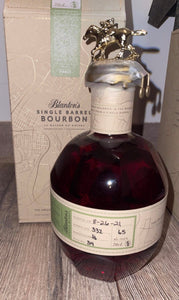 Experience a truly exceptional offering with the 2021 Blanton's La Maison du Paris Limited Edition 700ml. This remarkable expression is a testament to Blanton's commitment to crafting exquisite single barrel bourbon that is celebrated by whiskey connoisseurs and collectors worldwide.

The 2021 Blanton's La Maison du Paris Limited Edition is a testament to the brand's dedication to producing high-quality, single barrel bourbon. With each bottle, you're transported to a unique and luxurious world of flavor and craftsmanship.

Upon pouring a glass, you'll be captivated by its inviting amber hue, a visual indication of its complex character and aging process in charred oak barrels. The aroma is a delightful blend of caramel, vanilla, and subtle spices, promising a sensory journey of indulgence. On the palate, you'll savor a harmonious medley of flavors, featuring notes of butterscotch, dark fruit, and a gentle hint of spice, creating a rich and rewarding profile. The finish is long and satisfying, leaving you with a warm and memorable sensation that lingers.

The 2021 Blanton's La Maison du Paris Limited Edition is not just a whiskey; it's a celebration of innovation, luxury, and the pursuit of excellence. Whether you're a collector seeking a unique addition to your whiskey lineup or an enthusiast eager to explore the world of premium bourbon, this limited edition expression is a must-try. Order your bottle today from Folsom Wine & Spirits and add this exclusive and luxurious bourbon to your collection. Cheers to the extraordinary!