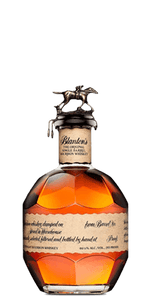 *1 bottle limit per customer
Blanton's Original Single Barrel Bourbon is the gold standard of premium, single-barrel bourbons that appeals exclusively to collectors and connoisseurs. The 'Original' is a mature and complex whiskey that exudes a unique balance of intense and bold flavors, resulting from Blanton's meticulous, handpicked process.
It was previously reserved for dignitaries and VIPs for nearly half a century before being made available to the general public. The 750ml version of the Original Single Barrel is one of the rarest and most sought-after spirits worldwide, and it's considered an elusive gem from Blanton's collection. This bourbon's refined and sophisticated profile is characterized by a silky, smooth texture that perfectly embodies the mystique of this cult single barrel bourbon whiskey.