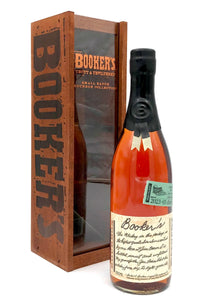 *ON SALE! Limit 3 Per order

Prepare to experience a truly mighty fine bourbon with Booker's Bourbon Mighty Fine Batc' Straight Bourbon Whiskey. Crafted by the legendary distiller Fred Noe and his family, this small-batch bourbon is a testament to the Noe family's dedication to producing some of the finest whiskey you'll ever encounter. It's a no-nonsense, full-bodied bourbon that offers a pure and unapologetic taste of the American South.

Named the "Mighty Fine Batch" for a reason, this bourbon commands your attention from the moment you lay eyes on it. Its deep amber hue in the bottle hints at the robust character within, inviting you to embark on a journey through flavor. The aroma is a captivating blend of rich vanilla, toasted nuts, and a hint of cinnamon, a promise of the thrilling tasting experience that lies ahead.

When you take your first sip of Booker's Bourbon, you'll be met with an explosion of flavors. The taste is a harmonious blend of sweet and spicy notes, with rich vanilla and caramel giving way to hints of robust oak and pepper. It's a full-bodied bourbon that doesn't hold back, enveloping your palate in warmth and complexity.

This small-batch bourbon boasts an impressive proof, and its bold character is sure to leave a lasting impression. Whether you prefer to savor it neat, over ice, or in your favorite bourbon-based cocktail, Booker's Bourbon Mighty Fine Batc' Straight Bourbon Whiskey will stand up to any occasion, making it a versatile addition to your collection.

The finish is impressively long and warming, leaving you with a deep appreciation for the craftsmanship that went into every bottle. Booker's Bourbon is more than just a spirit; it's a tribute to the Noe family's dedication to the art of distillation, a symbol of tradition, and a toast to the rich heritage of bourbon making. At Folsom Wine & Spirits, we're delighted to offer this remarkable bourbon to our esteemed customers who demand nothing but the best. Secure your bottle today and elevate your spirits collection with the unapologetic excellence of Booker's Bourbon Mighty Fine Batc', one sip at a time.