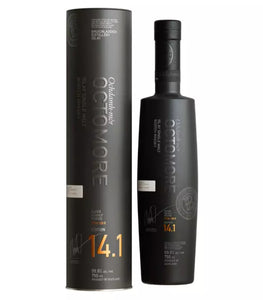 Introducing the Bruichladdich Octomore Edition 14.1 Islay Single Malt Scotch Whisky – a true masterpiece of craftsmanship and a testament to the rich whisky-making heritage of Islay. At Folsom Wine & Spirits, we take immense pride in bringing you this exceptional whisky, and we're certain that it will captivate both the seasoned connoisseur and the curious explorer of fine spirits alike.

The Octomore Edition 14.1 is renowned for pushing the boundaries of what a single malt Scotch whisky can be. It's a whisky that wears its Islay heritage proudly on its sleeve, harnessing the island's rugged terroir and maritime influences to create a flavor profile that is bold, unapologetic, and utterly unforgettable. This is a whisky that takes you on a journey through the very essence of Islay.

The nose of the Bruichladdich Octomore 14.1 is a tantalizing blend of peat smoke and citrus, offering a sensory experience that hints at the adventure to come. As you take your first sip, you'll be greeted by a wave of rich, smoky flavors, accompanied by notes of vanilla, honey, and oak. It's a complex and harmonious fusion of elements that dance on your palate, creating a symphony of taste that lingers long after each sip.

What sets the Octomore Edition 14.1 apart is its remarkable peatiness, boasting an astonishing 107 parts per million (PPM) phenolic content. This is where the whisky derives its intense smokiness, a hallmark of the Octomore series. But don't be fooled by the raw power; this whisky is beautifully balanced, offering a depth of character that reveals itself with every sip.

For collectors and enthusiasts, the Octomore 14.1 is an essential addition to any whisky cabinet. Its limited availability and reputation for excellence make it a prized possession. Whether you're savoring it on special occasions or sharing it with friends, the Bruichladdich Octomore Edition 14.1 is a whisky that will leave an indelible mark on your palate and your memory.

In the world of Scotch whisky, few expressions can rival the boldness, complexity, and sheer audacity of the Bruichladdich Octomore Edition 14.1. Secure your bottle today from Folsom Wine & Spirits and embark on a sensory journey that will redefine your appreciation for Islay single malt Scotch whisky. It's a testament to the artistry of the distillers and the untamed spirit of Islay – a true masterpiece waiting to be discovered.