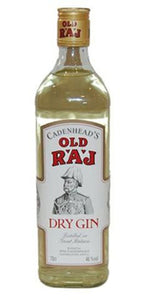 Old Raj Red Label Dry Gin 750ml is a premium gin that is crafted using a blend of traditional botanicals and a unique addition of saffron. This rare and expensive spice gives the gin its distinctive color and a subtle, exotic flavor that sets it apart from other gins.
The gin has a complex flavor profile that balances the juniper notes with a blend of warm, spicy flavors such as cardamom, cinnamon, and coriander. The saffron provides a delicate floral note, along with a slight sweetness that complements the botanicals. The result is a smooth, balanced, and refined gin that is perfect for sipping on its own or in classic gin cocktails.
Old Raj Red Label Dry Gin 750ml comes in an elegant and stylish bottle that reflects the gin's premium quality and the rich heritage of gin-making. The bottle features a red label that is inspired by the Scottish flag, paying homage to the gin's Scottish roots. This gin is a must-have addition to any liquor collection or a thoughtful and special gift for gin enthusiasts.