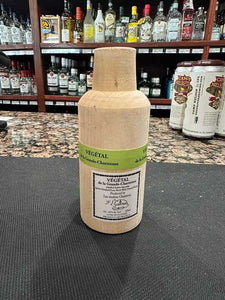 Delve into the centuries-old history of monastic craftsmanship with Chartreuse Elixir Végétal de la Grande-Chartreuse Liqueur. This extraordinary elixir is a testament to the dedication of the Carthusian monks, who have carefully guarded the secret recipe for over 250 years. Their quest for perfection, combined with a deep connection to nature, has resulted in a truly unique and revered liqueur.

The story of Chartreuse begins high in the French Alps, where the pristine and remote Grande-Chartreuse Monastery is nestled among the mountains. It's in this sacred place that the Carthusian monks, known for their vow of silence, meticulously craft this elixir in accordance with an ancient recipe that boasts 130 different herbs and botanicals.

The result is a liqueur that captivates the senses. Chartreuse Elixir Végétal's vivid green color hints at the verdant botanicals within. The aroma is an enchanting fusion of herbs, spices, and delicate floral notes, a promise of the extraordinary tasting experience that awaits. Every drop of this elixir carries the legacy of the monks and their unwavering commitment to producing something truly exceptional.

Upon sipping, Chartreuse Elixir Végétal de la Grande-Chartreuse unveils a harmonious and complex profile. It's both silky and robust, with flavors that dance across the palate. The taste is an exquisite balance of sweet and herbal notes, intertwined with a gentle warmth. The finish is long and satisfying, leaving you with the memory of a liqueur that's steeped in tradition and a testament to nature's gifts.

Chartreuse Elixir Végétal de la Grande-Chartreuse is more than just a liqueur; it's a spiritual journey, a connection to the past, and a celebration of the natural world. At Folsom Wine & Spirits, we are honored to offer this exceptional elixir to our valued customers who seek not only an exceptional drink but a connection to the enduring traditions of the Grande-Chartreuse Monastery. Secure your bottle today and savor the profound depths of Chartreuse Elixir Végétal, one sip at a time.